Júri
RADOSŁAW ACHRAMOWICZ
Perfil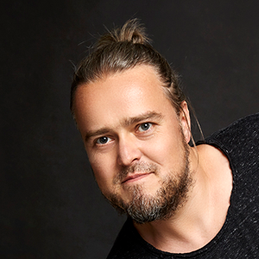 Dr hab., EngD, arch., associate profesor  of Technical Uniwersity in Warsaw
He was born in 1973 in Toruń. In 1998 he greaduated from the Faculty of Architecture of the Gdańsk University of Technology.
In 2005 he obtained a doctoral degree at the Faculty of Architecture of the Warsaw University of Technology, and a postdoctoral degree in 2012 at the Faculty of Architecture and Design at the University of Arts in Poznań.
Since 2015, he has been a university professor at the Faculty of Architecture of the Warsaw University of Technology, with which he has been associated since 1999.
Initially, he worked as an assistant, and then as an assistant professor at the Design and Theory of Architecture Department (under the supervision of professor Ewa Kuryłowicz).
He has been the head of this department since last year.
He also conducted classes in industrial design and architecture at the School of Form in Poznań, at the University of Technology and Life Sciences in Bydgoszcz and at the University of Sopot.
For years, his research and didactic classes have focused on the interdisciplinarity of architecture - in particular on the interpenetration of architecture with industrial design, which is the subject of this publication.
An important position in its scientific development is also played by the issues of avant-garde and architectural utopia, embedded in a wider cultural and social context.
His professional practice has been based on the issues of lighting design for almost two decades. Since 2004, he and his wife Anna Siedlecka have been co-creating the Puff-Buff lighting brand, under which several dozen industrial designs have been implemented. Many of them were awarded for innovation with Polish distinctions, incl. Prodeco, Dobry Design and the Sołtan, as well as international awards, including Design Management Europe twice, awarded by the European Commission, and the American Good Design Award.
Industrial designs, of which he is a co-author, have been presented at several dozen international exhibitions. They are also in permanent museum collections, incl. at the National Museum in Warsaw.