Jury
ÁLVARO G. ONIEVA
Profile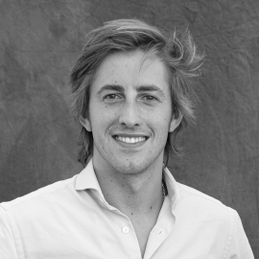 CO-FOUNDER - MRGO ARQUITECTOS
Architect and co-founder of MRGO Arquitectos along with Álvaro Mesonero Romanos.
MRGO is an architecture and interior design firm established in 2018 that has designed many of the restaurants of Madrid's most relevant hospitality groups: Grupo LALALA, Grupo Larrumba or José Luis, among others.
They have expanded their team from 2 to 13 professionals in just two and half years; carried out more than 30 housing and hospitality projects; and currently have 16 ongoing projects that will be completed before the end of the year.
Their projects have been widely published in specialized media such as Architectural Digest Spain, ELLE Decor, NAN Arquitectura, HNA Conecta, VOGUE or El Confidencial Digital.
He studied Architecture at the European University of Madrid and the Anhembi Morumbi University in São Paulo, where he took part in an exchange program. He took this opportunity to collaborate in social projects and to travel and explore South America.
Upon his return, he moved to Santiago de Chile for a year to gain experience in the Plannea Arquitectura studio and later moved to Berlin, where he worked at the Nieto Sobejano studio.
Once settled in Madrid, he shared work experience with Álvaro Mesonero Romanos at the Miguel Olazabal studio and after almost two years working on residential projects, they decided to take the leap and establish MRGO.
This entrepreneurship and the appetite for new experiences make them an energetic, honest and balanced team.