Jury
Iván Cotado
Profile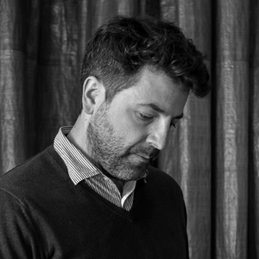 Iván Cotado, INteriorista EStratégico® (Strategic Interior Designer), Designer of Corporate Interiors. He works as a professor, lecturer and blogger occasionally. He has been recently awarded at the Hostelco Awards 2018 for the best hotel interior design project and at the German Design Award 2020 in the Excellent Architecture category. He is the head of the Iván Cotado Diseño de Interiores firm since 2005.
"We design interiors. We create businesses"
Iván Cotado Diseño de Interiores is the first Spanish firm that focuses on INteriorismo EStratégico® (Strategic Interior Design) as a source of entrepreneurial wealth. The firm has designed the experiential showroom of CUPA, a world leader in natural slate, the clinic of Dr. Gómez Bravo, an internationally renowned plastic surgeon, and the new Árbore da Veira, the hotel complex of Michelin-starred chef Luís Veira, among others.
Their work has been recognized on several occasions. In 2018 they were shortlisted at the Restaurant & Bar Design Awards, a year in which they were also awarded the Hostelco Award 2018 for the best interior design project in catering for Koh Lanta, a project for which they have just received a prestigious German Design Award in 2020, which places it among the 130 best interior architecture projects in the world according to the German Design Council.
Their motto is "We Design interiors. We create businesses", and by merging interior design and marketing they have specialized in the design of strategically profitable corporate spaces, and advocate a global interior design focused on creating viable, functional, unique and fully customized businesses.
Creators of the INteriorismo EStratégico® concept, they understand interior design as an essential part of business marketing, as one tool that must contribute homogeneously to the objective positioning of the brand. They foster that, for better or worse, interior design represents the leading role in the customer experience, and therefore has a direct influence on the bottom line of any business