Jury
Pedro Rica y Marta Urtasun
Profile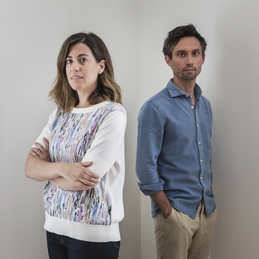 Founders of "Mecanismo" in 2013.
The fundamental work of both partners at the head of the studio, focused on the ideation and execution of design and architecture projects, is complemented by the informative and teaching activity they carry out through collaboration with different institutions and universities, including They include the EPS San Pablo CEU, the ISDIE business school, the Antonio de Nebrija University, among others, and in which they repeatedly teach specific classes and conferences. In addition, they are professors in the Master of Gastronomic Spaces at the University of the Basque Country, on the San Sebastián campus.
All this work is regularly published by numerous national and international media, as well as being included in publications by prestigious publishers such as Phaidon in 'Where the architects sleep', Beta Plus in 'Modern Residences' or Images Publishing in Brich, Stone, Metal, Wood: Building on tradition'. The studio is currently immersed in a process of growth and expansion, leading new projects and developing innovative business plans associated with the world of architecture and design.