Júri
Sofia Vasco & Beatriz Filipe
Perfil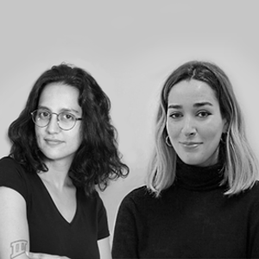 She was born in Portalegre in 1997, a small place that always made her feel a greater need for innovation. 
Sofia holds a degree in Equipment Design from Faculdade de Belas-Artes da Universidade de Lisboa (2018), and she took a course in Furniture Design at Lisbon School of Design (2021).
She was awarded the 1st Prize in the Roca One Day Design Challenge in 2021 together with Beatriz Filipe.
Currently, she divides her week between two furniture design ateliers in Lisbon.
Beatriz Filipe was born in Aveiro, Portugal, in 1997. From 2015 to 2018, she studied Product Design at the School of Fine Arts in Lisbon and did a semester abroad in France. In the first half of 2019, she interned at a design studio in Tokyo, Japan.
After being back in Portugal, she did a Post-Graduate Course in Product and Service Design Innovation. She has recently started working at a Design Atelier in Lisbon.