Designers
Alberto Martínez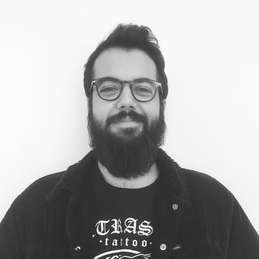 His artistic interest and passion for fields of craftsmanship related to illustration led him to study Visual Arts when he returned to the island where he was born. During his childhood, he was raised in Latin America and this may have given him a more critical perspective of his surroundings, as he does not feel that he belongs to any place in particular, a trait that made him restless. He decided to move to Barcelona in order to combine his studies with his work as an illustrator and tattoo artist, and somehow gain an understanding of the way in which he saw that objects accompany people's lives and, in a certain way, also have their own life, throughout the cycle that they go through and the story that they contain.
He reached the conclusion that studying design at a college such as IED Barcelona could be a good way of satisfying his creative yearnings and acquiring new technical knowledge.
He is about to graduate and would like to become much more involved in this world as he has come to understand many things that he had previously not even imagined, such as interdisciplinary work, material sciences, architecture and a new appreciation of form and colour with an endless range of applications.