Jury
Dorota Koziara
Profile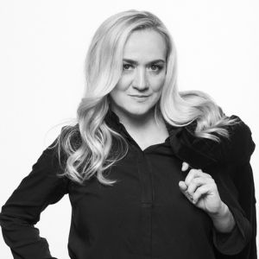 Designer, artist, interior designer, art director, curator. She studied in Poland and Italy. She collaborated with Alessandro Mendini and Atelier Mendini in Milan for 10 years. Since 2005 her studio has been located in Milan. She has designed for leading brands, such as Alessi or Swatch, and is the author of the interior design ofByblos Art Hotel Villa Amista. She has been collaborating with many prominent companies including Venini, Fiorucci, Hermes, Luxo, Abet Laminati, Swarovski, Bisazza, Fiat, Redd's, Cosimo Martinelli, Comforty, Du Pont, Noti, Slamp, Ardcodife Louvre, Cosi Tabellini, Tubadzin, Krono, Almi Décor, Comforty, Tatuum, Christian Dior.
Dorota Koziara approaches the topic of design very comprehensively. Being a designer, she also deals with design promotion, company development strategies through design, and design criticism.
She has been a curator and organizer of exhibitions promoting design on an international scene for many years, the most important being Real Industry Future Classics Comforty in the Temporary Museum For New Design Superstudio Pio, Mediolan Salone del Mobile 2011, Polish Design - Design from Wielkopolska at Salone del Mobile 2012, Polish Design at Salone del Mobile 2013,
"Polish Design – Tomorrow is Today" – Salone del Mobile 2017, MilanoDowntown Design Dubai 2013, Mendini at National Museum and Kulczyk Foundation in Poznań 2004, and Mendini, at Wroclaw – the European Capital of Culture' in Neon Gallery and Museum of Architecture in 2014.
Dorota Koziara's work has been presented at numerous exhibitions in Poland and abroad, including Milan, London, Paris, New York, Berlin, Tokyo and Zurich.
She is a prizewinner of the international Third Millennium sculpture competition in Tuscany, Italy for her installation entitled "12 Angeli".
In 1998 she created a part of the dramaturgy and scenography for 70 Angels on the Façade performance directed by Robert Wilson for Piccolo Teatro in Milan (world's first theatrical performance on the subject of history of architecture and design for the 70th anniversary of Domus – the world's oldest design magazine).