Jury
Patricia Bustos
Profile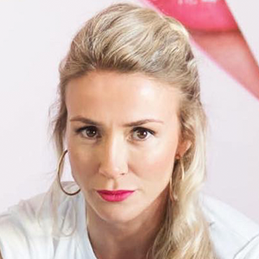 FOUNDER & CREATIVE DIRECTOR - PATRICIA BUSTOS STUDIO 
Enterprising, passionate and creative, Patricia has had a vocation for design since she can remember. She combines an analytical and entrepreneurial profile with creative skills for fashion design, art and decoration.
A painter and furniture designer by vocation, she considers herself an artist and interior designer. With a degree in Business from CUNEF and a Master's degree in Fashion Design from Saint Martins College of Arts, Patricia has developed her aesthetic and creative sensibility through her different projects.
Enchanted by beauty, she believes that the environment has a direct impact on our mood and a beautiful environment will help us to be happy. She faces every project from a different perspective to be able to innovate and make each space unique and personal. Her aesthetic references come from her past in fashion (she worked for Inditex) to create from abstract concepts. Her clients look for singularity in her, they want their house to be unique, and everything is designed within her firm, from shelves to faucets.
Her interiors are deep reflections on a concept that is on her mind at the time. "Each project leads me to better understand the world and myself," she acknowledges. She loves to create, imagine and dream new and different things, she is obsessed with that… newness and beauty are the two essential pillars to design a space.