Jury
RACHID BENBRAHIM EL ANDALOUSSI
Profile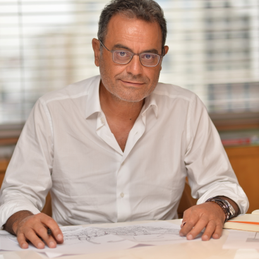 Rachid Andaloussi graduated as laureate from the Ecole Spéciale d'Architecture (ESA) in Paris in 1984.
From the outset, the young architect claimed adherence to the heritage of avant-garde modern architectural movements from the 1920s to the 1960s, which to an exceptional degree shaped the city of Casablanca.
Jean Louis Cohen, historian of 20th century architecture and world authority on the subject, would not be wrong in noting in Rachid Andaloussi's projects to come the influences of some of the architects who have left the greatest mark on the Casablanca landscape: Marius Boyer, Elie Azagury, and Zevaco.
Since he opened his architectural office in 1990, RACHID BENBRAHIM EL ANDALOUSSI has worked ceaselessly. His now considerable opus makes him indisputably one of the most prolific and gifted Moroccan architects of his generation. Especially since, despite the diversity of his projects, his stamp can still be distinguished by observers from the work of other architects: the colour white, horizontal lines, play of light and shadow, pared-back form, devoid of clutter, integration into the environment, fluidity of circulation, the concern for functionality – all culminating in an aesthetic that rigorously rejects any pretentiousness or facile flattery.
"There's no such thing as a small project", according to Rachid Andaloussi. In his many plans for art galleries, the construction of imposing corporate headquarters, the design of rental apartment blocks or mansions, the same impulse to "draw on the lessons of the past in order to better look to the future" guides the pencil of the Architect.