Júri
José Martínez
Perfil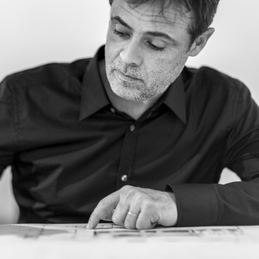 José Martínez is the founding architect and CEO of ATELIER CENTRAL. He has designed and developed projects that range from small scale, single unit housing, to larger projects in fields as distinct as residential housing, education, culture, hospitality, commerce, leisure, industry and urban design. His in-depth expertise in Brand Design, with particular emphasis on the automotive sector, is notable.
Recognised in international competitions, he has been distinguished with important awards like the 2017 American Architecture Prize – The Firm of the Year Awards 2016; International Space Design Award Idea-Tops 2016 - Best Design, and Valmor Award 2011, among others.
In 2001-2009, together with the architect Miguel Beleza, he founded ATMB13, a company specialising in corporate branding and design. In 2014, he launched mybuildin.pt. He has recently created the ATCENTRAL Group, a consultancy and real estate investment group based on a consolidated history of asset management and architectural services.