Portugal
Data: 16 de março de 2019
16 de março de 2019
Introdução
On the 16th of March, the third edition of Roca One Day Design Challenge was celebrated at Patío de Galé in Portugal. This time, the contest attracted over 340 students from all over the country to participate in the architectural challenge against the clock. 
Nowadays, all major cities are facing an increasing necessity of integrating such public toilets, which would favour cleaning and hygiene conditions, as well as would have a reduced impact on the urban landscape. In such context, the participants were challenged to design an urban public toilet, which apart from the above-mentioned characteristics would also be feasible in function of maintenance and economic installation. 
Raquel Medeiros and Rita Soares became winners of the 2019 edition, gaining 2.000€ thanks to their project Twin, which consists in a spacious and integrated into its environment toilet, that is thought for individuals with reduced mobility and incorporates bicycle parking. 
The second prize was awarded to Renata Almeida and Mariana Raio for their JOO project, which has brought the students of the ISCTE University 1.500€. JOO features a toilet, which is perfectly integrated into the urban landscape, due to its limited space and the usage of materials. Even though JOO is primarily thought for women, it´s also suitable for men. 
Samuel Belo and João Pedro Guerra from the ESAD University have been granted the third prize, receiving 1.000€ for the remarkable flexibility and modularity of the designed toilet.  
The We Are Water Prize Award and 500€ was conferred to Janine Ayoub and Mantas Sevelkovas for their 2WC – 2 Ways Sustainability project thanks to it special consideration of sustainability goals. 
Projetos premiados
We Are Water Prize Winner
2WC - 2 Ways Sustainability
Júri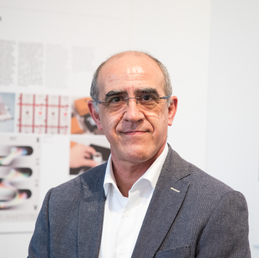 Jorge Vieira
Jorge Vieira is the Managing Director of Roca, S.A. since 2009, where he also worked in Sales & Marketing, from 1991 to 2006, having also held the position of Managing Director at Roca Argentina, S.A., from 2006 to 2009.
Mais