Designers
Jessica Khouzami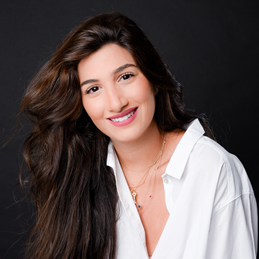 Jessica Khouzami graduated from the Académie Libanaise des Beaux-Arts (ALBA) in Beirut in Lebanon, with a Bachelor Degree and Master in Interior Architecture.
She is currently working on the design team of a management company called RODA Hotels in Dubai in the UAE.
Travel has an important place in her life as it allows her to discover new places and cultures, as well as meeting people from different backgrounds, which is a great source of inspiration.
The main reason that she chose architecture as her path is that it combines both of her passions – creativity and logic, which she believes are the main virtues of a good designer and architect.
As far as she is concerned, the sky is the limit. The more she experiences, sees and learns, the more she reaches out eagerly and without fear for newer and richer opportunities.
Her ultimate goal would be to own and run an interior design company and create her own line of furniture.