SPAIN
Data: 28 de outubro de 2023
28 de outubro de 2023
Introdução
The Spanish edition of Roca's One Day Design Challenge was held on October 28th in the Roca Galleries in Barcelona and Madrid. In this popular and dynamic contest, students and young professionals are asked to design a product brief – in just one day – in response to a given prompt.
This year's 511 entrants submitted nearly 241 designs in response to the challenge: "Design a bathroom furniture that is adaptable to any accessible sink and that provides a comfortable and safe experience for people with any type of functional diversity"
After the jury's deliberation both venues connected to announce the winning projects:
The first prize winner was for Ionut-Ovidiu Suteu for his project: "Strumpa" Ionut demonstrates extensive consideration of accessibility features, including adjustable height, open storage, and user-friendly faucet controls, make it the top choice for winning the project. Its commitment to inclusivity and convenience, coupled with safety enhancements like the stabilizing handle, ensure it stands out as the ideal solution for a diverse user base. Strumpa has also been one of the best presentations.
Second prize went to Max Paré for his project: "Glide". Glide earns recognition for its second prize due to its playful, colorful, and accessible design. While it embodies universal design principles with adjustable height and maneuvering space, its vibrant and welcoming aesthetics set it apart. The playful use of colors and clear signage makes it visually engaging and easy to navigate, enhancing user experience. Its commitment to accessibility through voice activation, safety bars, and inclusivity showcases its dedication to creating a cheerful and user-friendly environment. Glide strikes a balance between form and function, making it a standout second-prize winner.
Third prize went to Marina Font Perpinyà thanks to her innovative project for its forward-thinking and futuristic approach to inclusive design called "Alma". This revolutionary basin and base unit goes beyond typical accessibility solutions, embracing a futuristic perspective on enhancing the lives of individuals with diverse abilities. Its use case, specifically highlighting its effectiveness for those with Autism Spectrum Disorder and its adaptability for various accessibility needs, demonstrates a unique and forward-looking perspective. The step-by-step guide adds a user-friendly touch, making it a practical and inclusive solution, while its emphasis on improving daily living for a wide range of users.
At the core of each Challenge is Roca's desire to give young designers and professionals a platform to showcase their skills and connect with the architecture and design community.
This edition marked the contest's 11th anniversary. Since its beginning in 2012, the One Day Design Challenge has consistently grown in popularity and now takes place in 15 countries across the world. The next edition will take place in UAE on November 11th.
Júri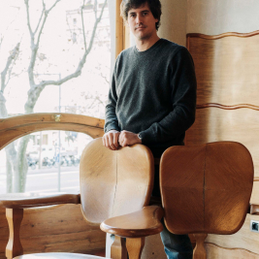 Max Enrich
Max has a degree in Product Design at EINA (2008-2011).
He is a professor of third-year Product Design Projects at EINA where he studied and also works as a self-employed product designer, carrying out custom furniture projects for private clients and companies. One of the most characteristics notes of his job is how he plays with the materials. Iron, stone, plaster, marble or wood are some of his favorites. Some of his pieces are self-produced as an exercise of experimentation, although most of them are made in local workshops in Barcelona.
Mais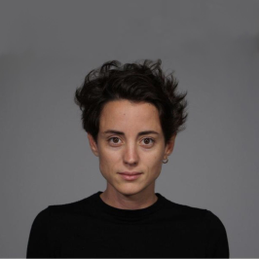 Clàudia Raurell
Clàudia Raurell (Barcelona, 1986) is an architect established in Barcelona. Her work is a critical exercise that contemplates, responds and activates the place with which she works. The result is a sensitive and self-conscious architecture that explores the limits of the dogmatic in both form and substance. Her projects la Clara and la Rocío –CRÜ, 2021– were selected for the 2022 FAD Awards in the interior design and architecture categories respectively, as well as the 2022 CSCAE National Architecture Awards. Her work has also been recognized internationally, receiving the Gold Medal of the German Design Awards 2020 (Germany) and the first prize of the Idea Tops Award 2019 (Shenzhen), both for the project la Diana –CRÜ, 2017–.
Mais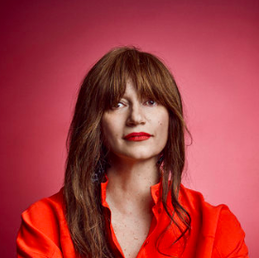 Marisa Santamaria
Founder of Global Design Innovation Trends Unit.
Marisa is a researcher, curator and informer specialized in global design connected with social and cultural movements in the 21st Century. She is the leader of the investigation Atlas de la Cultura del Diseñoen España together with the Ministry of Culture and Sports and MDF. Analyst of the study Diseño y hogarGeneración Z for the Silestone Institute of Design Investigation. Jury of the National Design Awards 23-24. Advisor of Accion Cultural ESpañola PICE – design and architecture. Marisa is the Design Talents and Trends Forecaster of Maison&Object Paris, professor of the Poli Design-Politecnico of Milano (Design Trends Laboratory), IE University, Nebrija University and IADE. In addition, she publishes in El País, ICON Design, AD and ELLE Decoration.
Mais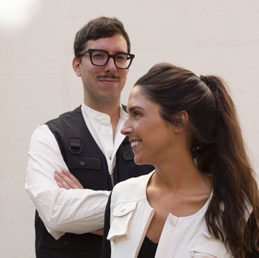 Enrique Ventosa (Plutarco)
Plutarco is an architecture studio based in Madrid, founded by Ana Arana and Enrique Ventosa in 2015. They design architecture, interiors, products, exhibition spaces... They are flexible and enjoy working with new, different techniques. The combination of their studies in architectre and art, gastronomy and design - their passions - generate a new range of custom-made projects with refreshing aesthetics and concepts. They like to take risks and avoid using the same solution twice. They believe in the power of colour and understand it as a very constructive material.
Mais
Mónica Azorero
A graduate in Industrial Design in 1998 at the ESDI Design School, she has spent her career in different design and ephemeral architecture studios, before joining the Roca Design Center in 2003.
Her skills allow her to find and apply the most adequate solution for every challenge. She is able to combine the rational perspective that her professional environment requires with a spark of creativity to add even more value to her work.
Jordi Pérez
A graduate in Industrial Design from Elisava Barcelona School of Design and Engineering. He has worked in Spain and Italy in product development for some of the leading international companies in the design industry.
Since 2002, he has formed part of the Roca Design Center. He has worked as a lecturer at Elisava and the Centro Ricerche Domus Academy (Milan).
He has won several design awards and accolades for his work.