Malaysia
Date: July 6 · 2019
July 6 · 2019
Introduction
The first edition of the Roca One Day Design Challenge in Malaysia reunited over 220 young talents from all over the country.The competition, that was celebrated on Saturday 6th July in Kuala Lumpur.
The concept established as a premise for the participants in Malaysia has been to rethink a basin design that include other features and functionalities apart from the current ones. 
Out of all the submitted projects, Amnion from Syafa Mustaffa and Aresha Suraya Roslan from o2 Design Atelier and The One Academy Sdn. Bhd. respectively was the winner. The project consists on a wholesome solution that works both as conventional basin and ergonomic baby bath tub. 
The second prize was awarded to Botaniczny by NG Yee Lun and Saw Wai Xiang from Dtl Engineering Sdn Bh and Malaysian Institute Of Art. The jury highlighted the sustainable sensibility of the project, proposing a plant integrated into the basin.
The third prize was for Kontrol by Lim Joe Yi from The One Academy. The jury highlighted the attractive design and materials used, as well as the function to see the water the user is about to consume.  
The members of the jury also awarded with an additional prize from the We Are Water Foundation to the project Dry Basin from Tan Lai Zeng and Chua E-Xuan from The One Academy, because of its special focus on sustainability. The proposal is a basin that reacts to the levels of water usage, changing its color according to the intensity of use. 
Awarded projects
We Are Water Prize Winner
DRY BASIN
Jury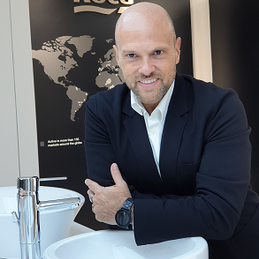 Diego Jolis
Diego Jolis is the Managing Director of Roca Malaysia and Singapore and is based in Petaling Jaya, Malaysia. He leads a team of over 400 employees that manufacture and distribute world-class sanitary ware for the domestic markets, and across Asia Pacific and the Middle East. He is a very hands-on, dynamic leader and has a collaborative and open management style in the organisation.
Diego Jolis graduated from the Catholic University of Argentina in Accounting & Business Administration and has been with Roca for 25 years. Prior to his current appointment, he was based in Roca Argentina and led his team to an impressive market share growth in the region.
More