Spain
Date: October 18 · 2014
October 18 · 2014
Introduction
Roca held the third edition of the One Day Design Challenge on 18th October 2014. This initiative began with the aim of giving young Spanish designers the opportunity to create unique projects, as well as giving them a head start as they embark on their professional careers. The speed design contest was held simultaneously in the Roca Galleries in Barcelona and Madrid, connected via streaming.
In this third edition, the participants faced the challenge of designing and reinterpreting public bathrooms for events attended by a large volume of people, improving the solutions currently available on the market. Once again, the challenge achieved great success in terms of participation, with 193 groups registered and more than 100 final proposals.
After an intense debate, the jury, formed by members and partners of the Roca Design Center, named the Capsul3 project the winner, designed by two students from the ELISAVA design college, Álex Casabò and Enric Garriga.
Capsul3 combined bathroom modules which connect to each other to form a chain to meet the particular needs of each event. Moreover, the design, which took water efficiency into account thanks to a recycling process, also enabled modules to stack up, thereby facilitating transportation. The jury highlighted the capacity of this solution to integrate all of objectives set out in the brief perfectly, creating a temporary space that respects the environment and strives to ensure maximum comfort. 
Jury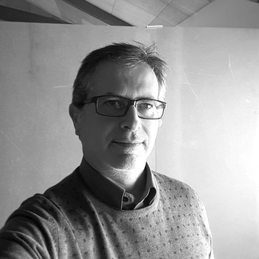 Jordi Corral
Roca Head of Global Innovation 
Born in Barcelona, Jordi is a qualified engineer graduated at the Polytechnic University of Catalonia who joined the Roca Design Center in 1998, after seven years of experience as a development engineer in the automotive industry.
On top of his duties in the Design Center, he helped set up the Roca Innovation Lab back in 2007 and nowadays he holds the position of Head of Global Innovation at Roca.
More